Richard Crabtree ARCM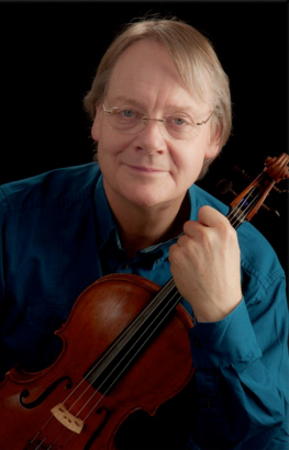 Richard enjoys a well balanced musical life style which encompasses all the essential elements of a musician and instrumentalist of the 21st Century.

He studied violin and viola with Nicholas Roth at Trinity College of Music (now Trinity Laban) and went on to work with the BBC National Orchestra of Wales, Royal Philharmonic Orchestra, London Mozart Players and the original London Soloists Ensemble.
Later as principal violist and soloist, he performed with the London Soloists Ensemble, Wessex Sinfonia, Clifton Virtuosi, Orchestra of the Swan, English National Baroque and the Emerald Ensemble.

Richard is a solo commercially recorded artist and has broadcast on BBC Radio 3, 4, Classic FM and Greek RTA. He has also recorded solo sound tracks for television documentaries with BBC 1 and 2, ITV and Channel 4.

His keen interest in promoting contemporary music has taken him throughout the UK and Europe, including a major tour of Turkmenistan. This was organised by the British Council and Turkmenistan's Ministry of Culture for the Makhtumkuli Festival. His performances were televised throughout the State, and Richard has the distinction of being the first British musician to perform there since Glasnost.
Internet lessons are another feature of Richard's work. Students from China, Hong Kong, Japan, Thailand, Singapore, India, Qatar, Russia, South Africa Norway, Switzerland, Italy, France, Spain, UK, America, South America,Turkey have regularly benefited from the flexibility of internet lessons.
His younger students gain scholarships to prestigious schools in the UK, have won first prizes at National and International Competitions, and gain places with the National Youth Orchestras of England, Wales & Ireland.

Richard's most gifted Postgraduate students procure positions with major Orchestras in London, throughout the UK and abroad. Young professionals return for refresher lessons when preparing for auditions.

He has coached on courses in Korea, Spain, France, Italy and the UK, and is a member of a team of international teachers and soloists who give recitals, master classes, individual coaching and chamber music for the organisation Language and Music for Life www.lmfl.org.
In 2011 he produced the Crabbers Scale Manual for Violin, Viola and Cello. This unique system uses letters and numbers and is specifically designed to help students who have difficulties learning scales.

Richard is a Professor of Viola and Violin at Trinity Laban Conservatoire of Music & Dance London www.trinitylaban.ac.uk
He is also on the teaching faculties at Bristol, Bath and Goldsmiths' Universities.

Richard & Rosalind have two sons and a daughter.
James www.selectmodel.com
Edward https://uk.linkedin.com/pub/edward-crabtree/59/aaa/a02
Jessica http://www.jessicadiamondofficial.com