Richard Crabtree ARCM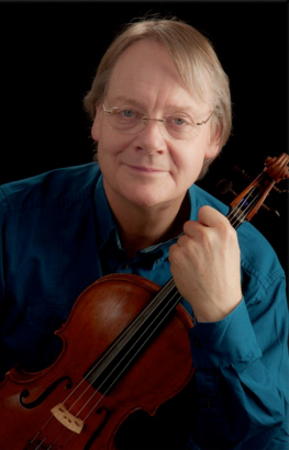 Richard enjoys a well balanced musical lifestyle which encompasses all the essential elements of a musician of the 21st Century.

He studied violin and viola with his teacher and mentor Nicholas Roth at Trinity College of Music (now Trinity Laban). During his early career Richard worked with the BBC National Orchestra of Wales, Royal Philharmonic Orchestra and the London Mozart Players. As principal violist and soloist, he performed with the London Soloists Ensemble, Wessex Sinfonia, Clifton Virtuosi, English National Baroque and the Emerald Ensemble.

Richard gave his debut recital on Radio 3 in 1989, and has subsequently recorded solo sound tracks for television documentaries with all four of our major broadcasting channels.
His keen interest in promoting contemporary music has taken him throughout the UK and Europe. The British Council and Turkmenistan's Ministry of Culture invited Richard to perform at the Makhtumkuli Festival where his performances were televised throughout the State. Richard has the distinction of being the first British musician to perform there since Glasnost.
Premiere performances of Concertos, Suites, and Incidental works written by Leonard Salzedo, Ellis Pehkonen, Chris Toon, Chari Numerov, John Marsh, Sarah Class, Martin Pring, Charles Matthews, William Godfree, all add towards the diversity of the viola repertoire.
The festival of Jewish music for 'Violins of Hope' hosted in North Carolina, was a particular special event. Violins that were played by Jewish musicians during the Second World War at the German concentration camps, have been restored. Performances included works written in the camps by young gifted musicians who were subsequently exterminated. Their music is now brought to life by the finest Jewish virtuosi of today. Richard stood in for Atar Arad who was indisposed at short notice, and therefore had the rare experience to perform along side these musicians and to the remaining victims that survived the Holocaust.
Richards teaching has become an enduring and ever evolving passion for the last four decades. Violin & viola students regularly gain places with Junior and Senior National Youth Orchestras, have won competitions in the Uk and abroad and gain scholarships to prestigious schools throughout the UK. His postgraduate student's gain rank and file and principal positions with international orchestras. He has given masterclasses and concerts in the USA, China, Korea, Turkmenistan, France, Italy & Spain.
In 2011 Richard produced the Crabbers Scale Manual for Violin, Viola and Cello. This unique system uses letters and numbers and is specifically designed to help students of all ages and abilities to gain confidence when learning scales.